The perfect Half-moon purse. Right, Simone?
Characteristics
Material and care
Delivery and return
Half moon coin purse with 2 card slots and removable handle
Size: 15 x 10 cm
In recycled leather and goat leather
Exterior: 100% recycled leather
Lining: 100% cotton
Recycled leather can be cleaned with a damp cloth.
Metropolitan France and Corsica
Colissimo Relais: free delivery for purchases over 50€. 4€ below 50€ of purchase.
Free returns.
Overseas
Colissimo: 35€ from 50€ purchase. 25€ below 50€ of purchase.
Returns at the customer's expense.

Different terms and conditions apply for international deliveries: for more information, see our page dedicated to Shipping and Returns!
You have 30 days to make a return after receiving your package. Refunds are made upon receipt of the product.
In zipped leather, it's a hit
The Simone half-moon wallet
For the Fall/Winter back-to-school season, we bring you a new best-seller. The Simone wallet ladies and gentlemen! A trendy zipped leather half-moon that will follow you everywhere you go: because of its small size, it fits in all your bags and even your pockets if the jacket allows it!  A most loyal travel companion that will last over time thanks to its quality materials. The icing on the cake? It's very cute! Our designers put their hearts into it and made you a marvel of small leather goods in boldly chic gold metallic leather.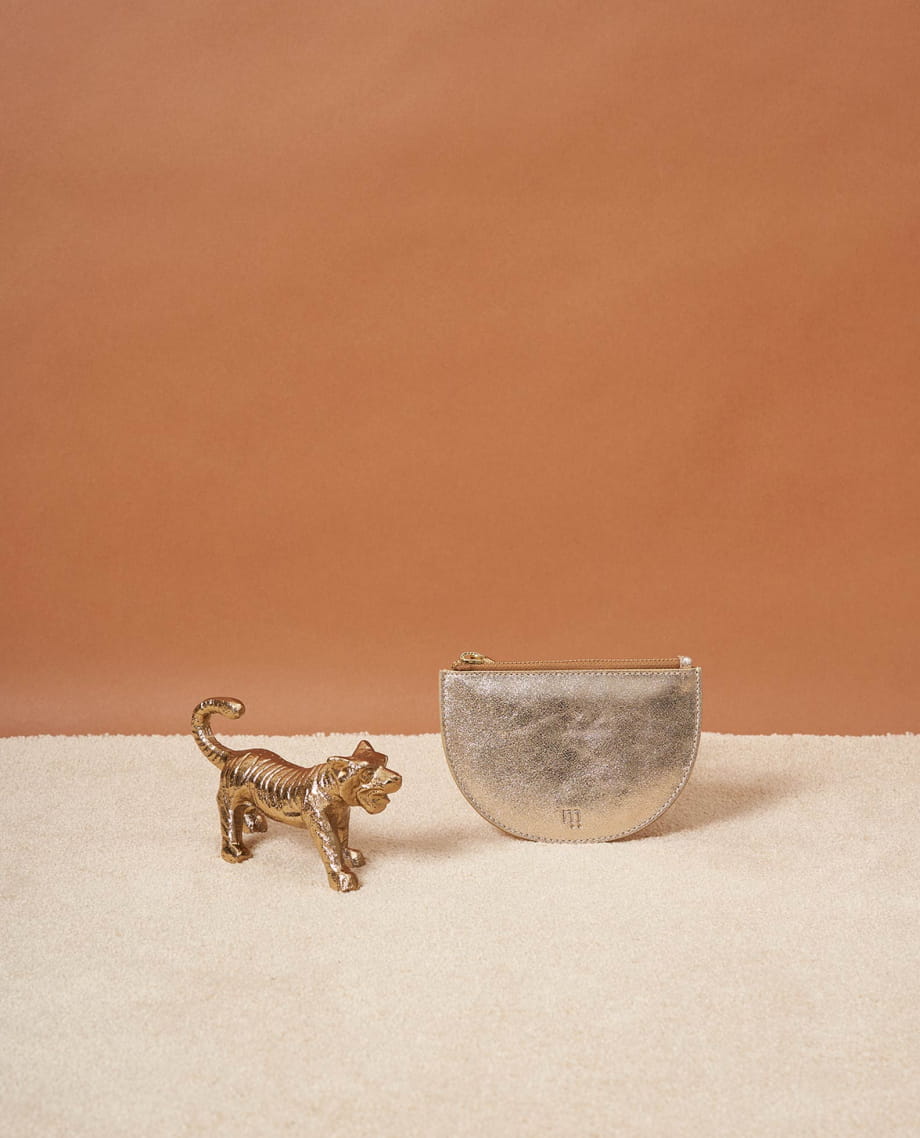 A leather of quality
Simone is not just a purse. It is much more than that. Because at Maradji we don't do things by halves, so we chose for you a pretty conjugate of 100% cowhide leather and 100% cotton lining. This assembly comes to us directly from New Delhi where our artisans practice an ancestral know-how that we cherish. And all of this in completely respectable conditions, because that is also important to us. From making to selling, we meet the needs of the Maradji family members.
This Autumn, all I want is Simone Wallet
It's the end of summer, but there's no reason to stop indulging. To tackle the upcoming new season, what better way than with back-to-school shopping? Simone's purse will slip in alongside you and be your faithful ally. We know from experience that he enjoys the company of the Joseph messenger bag, the Betty clutch or the large Marlon bag. It fits in easily and pairs perfectly.