A small classic but timeless bright purse bag. Just like this, or slipped into your handbag, you will never get rid of it!
Characteristics
Material and care
Size guide
Delivery and return
Small bi-material purse in shiny metallic goatskin leather and upper part in textile, cotton and lurex
Zipped closure
Embossed logo on the front
Dimensions: 20 x 15 cm
Small bi-material purse in shiny metallic goatskin leather and upper part in textile, cotton and lured
Lining 100% cotton - tone-on-tone
Velvet leather gives the leather a unique velvety feel. It is a delicate material that should be treated with care. We recommend waterproofing it regularly. If necessary, you can add intensity to the colour by using a leather refresher. In case of stains, entrust your clutch to a leather specialist.
Made with respect in New Delhi, India.
All our small leather goods are available in one unique size all because they have been designed to suit all women.
Metropolitan France and Corsica
Colissimo Relais: free delivery for purchases over 50€. 4€ below 50€ of purchase.
Free returns.
Overseas
Colissimo: 35€ from 50€ purchase. 25€ below 50€ of purchase.
Returns at the customer's expense.

Different terms and conditions apply for international deliveries: for more information, see our page dedicated to Shipping and Returns!
You have 30 days to make a return after receiving your package. Refunds are made upon receipt of the product.
Shiny Alphonse by Maradji
The bi-material purse
This year, rediscover our Alphonse purse in a metallic shiny color.
For her new Autumn-Winter collection, Maradji reinvents this timeless piece and plays with quality materials.
Convenient and trendy, the Alphonse is not just a small leather goods item. Large pocket with a zip closure, this pouch will easily hold all your essential travel (and beauty!) essentials.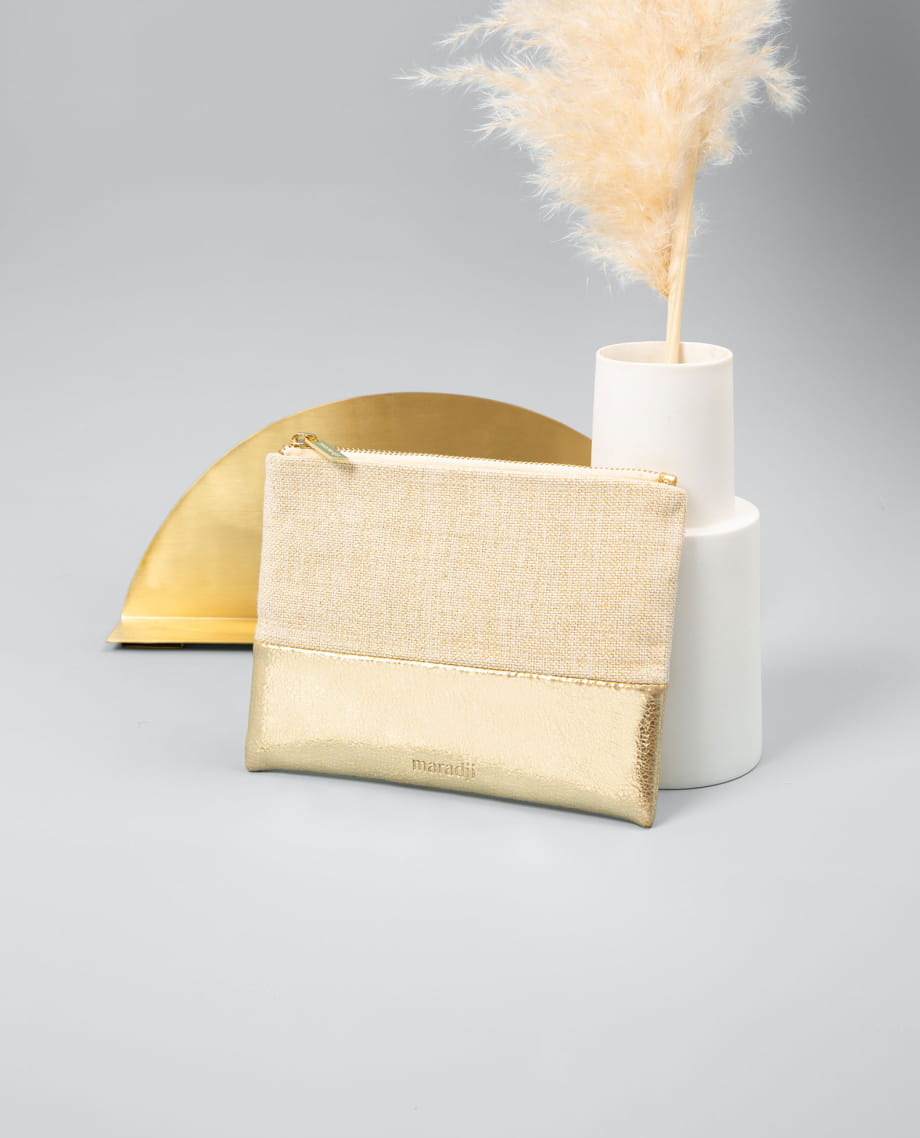 QUALITY LEATHER AND TEXTILE
Bi-material accessories
For her new collection of leather goods, Maradji takes you on a journey to India. Heart country of our designer, India is rich in Maradji's know-how. Made with quality materials in a certified factory, our leather, cotton and lurex pouches are sustainable and convenient fashion accessories.
This Autumn, discover the Alphonse purse. Made of metallic leather and cotton embroidered with fine lurex threads, the Shiny Alphonse is a chic piece with a touch of fantasy. In goatskin leather, this small leather goods item is at the heart of our inspiring universe.
DESIGNED TO FORGET NOTHING
How to use the purse?
With its slim shape, the Shiny Alphonse purse is THE piece to have with you every day.
Convenient because of its intermediate size, this piece is a must for your essentials! It slips into a small bag and allows you to contain all your beauty (or travel!) essentials. Easy to carry so you don't forget anything, the purse will quickly become your organization's ally. What could be better?

And for all those who want to wear the purse in style, our model matches easily with any piece of leather goods.
Handbag, tote bag and messenger bag, choose the color that matches your wardrobe! The Alphonse Shiny purse is made of metallic goatskin leather and cream cotton with gold embroidery.