The bohemian cushion in pomelo colour, to dress up your indoor or outdoor living areas with elegance.
Characteristics
Material and care
Size guide
Delivery and return
Striped Cushion in cotton with lurex tassels
Measurements : 40X40cm
Delivered in vacuum
Colour : Pomelo
Handmade with care in India
The Rio cushion comes with its own filling. It is removable and washable.
Composition : cotton and lurex
Your Rio cushion can be machine washed at 30°. However, if the cotton supports well the ironing with hot iron it is not necessarily the case for the lurex, thus think of ironing with cold iron. This will preserve the shine of your fabric and its initial color! In order not to deform it, do not put it in the dryer, it would be too aggressive for this material.
Discover our collection of decorative cushions, in Maradji colours, dimensions 40x40cm, enough to decorate your home with comfort and elegance!
Metropolitan France and Corsica
Colissimo Relais: free delivery for purchases over 50€. 4€ below 50€ of purchase.
Free returns.
Overseas
Colissimo: 35€ from 50€ purchase. 25€ below 50€ of purchase.
Returns at the customer's expense.

Different terms and conditions apply for international deliveries: for more information, see our page dedicated to Shipping and Returns!
You have 30 days to make a return after receiving your package. Refunds are made upon receipt of the product.
Crafted along oriental know-how
A Bohemian Cushion
In 2021, we welcomed Rio in our collection, and it is now one of our most iconic bohemian cushions! Woven in India, in the workshop of Madhu, who's the guardian of an ancestral know-how, Rio will bring to your house a small piece of the Orient… and for a very long time! Our decorative cushions are undeniably high-end, which means that they will accompany you for many years without losing their shine. Our designer has made sure that Rio will forever bring to your bedroom the spicy scents of the Jaipur bazaars and the flamboyant pigments of the Holi.
Luxurious textile
Woven cotton and embroidered Lurex
Our Rio cushion is woven in cotton and embroidered with Lurex, a pretty golden thread that adds sparkles and warmth to any textile! This luxury cushion is also sold with its own filling. It is removable and absolutely washable, especially with its convenient size of 40x40 cm. You will have no trouble washing it, as long as you put it in the washer at only 30°C / 86 °F (you can use a disinfectant detergent if you think it won't wash properly) and iron it cold! Lurex doesn't like heat, so if you want to keep Rio's warmth and colors, keep this advice in mind!
Rio Pomelo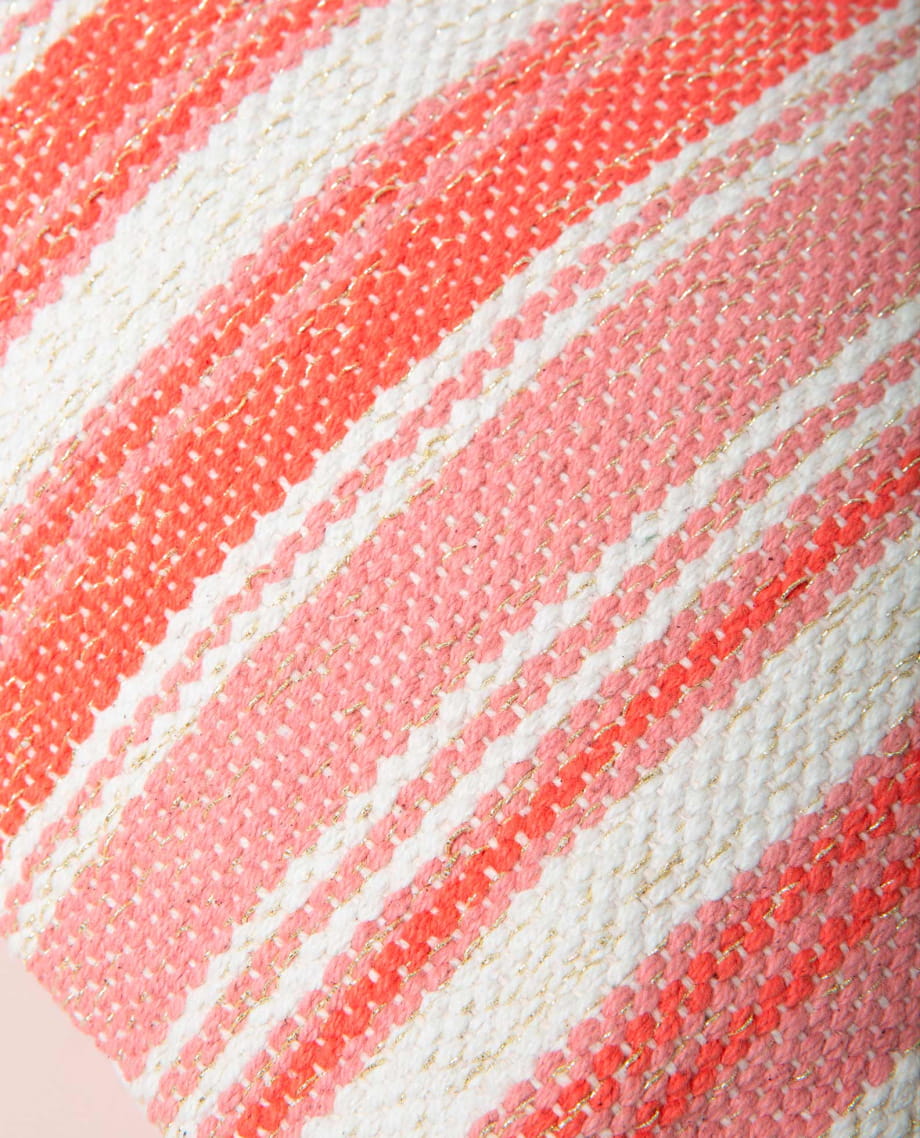 30 %
A gate to India in your living room
Find where to put your Rio cushion
Whether your house is purely vintage or strictly modern, rest assured that Rio will fit anywhere! With its traditional square format, it will fit on any sofa. Rio is a perfect combination of styles: its large tassels give it a summery, bohemian look, but its stripes modernize a too-indolent look with their geometric effect.
If you're not sure which color you should choose, here is what we can say: to warm up your room, choose Rio Pomelo, because a red cushion will inevitably rubify your room. To stay in neutral and cold tones, and keep a soft and bright atmosphere, choose Rio Cielo instead! And if you think your decor is too dark to buy this adorable cushion, Rio can soften any living room, even black and gray sofas! Really, there's no reason you shouldn't add it to your cart!