With its colorful coral pink print, this scarf will take you straight to Mexico!
Characteristics
Material and care
Size guide
Delivery and return
Mexico printed silk scarf
Dominant color : coral
Secondary colors : light pink, agua, yellow, fuchsia and fir green 
100% silk
Size 85x 85 cm
Made in China
To take care of your silk scarf, we recommend that you dry or hand wash it and then air dry it. Nothing better to keep it long!
Please note! Bleach is not recommended.
All our Maradji scarves are available in one size. Dimensions 100 x 100 cm, 85 x 85 cm or 50 x 50 cm.
Metropolitan France and Corsica
Colissimo Relais: free delivery for purchases over 50€. 4€ below 50€ of purchase.
Free returns.
Overseas
Colissimo: 35€ from 50€ purchase. 25€ below 50€ of purchase.
Returns at the customer's expense.

Different terms and conditions apply for international deliveries: for more information, see our page dedicated to Shipping and Returns!
You have 30 days to make a return after receiving your package. Refunds are made upon receipt of the product.
Mix of colors
The silk square
This is the first time we offer you a 100% silk scarf. We present you ladies, the Mexico scarf, available in three colors, you will have the choice between green, coral or agua. This scarf is very colorful and flowery, we obviously appreciate the details and the story that our designer wants to offer us. Thus, we can travel and dream with this beautiful luxury silk scarf belonging to the theme of spring bohemian chic. If we take a closer look at the details of this natural silk scarf, we can observe flowers of different types, beautiful doves, or branches.

Colorful point
This beautiful coral scarf is mostly pale pink, for an unparalleled softness effect. The flowers are different types of pink, with magenta, fuchsia or nasturtium pink, it's a beautiful pink marriage. The hint of yellow wakes up the scarf and the green and blue shades match perfectly with the pink. What a beautiful trip!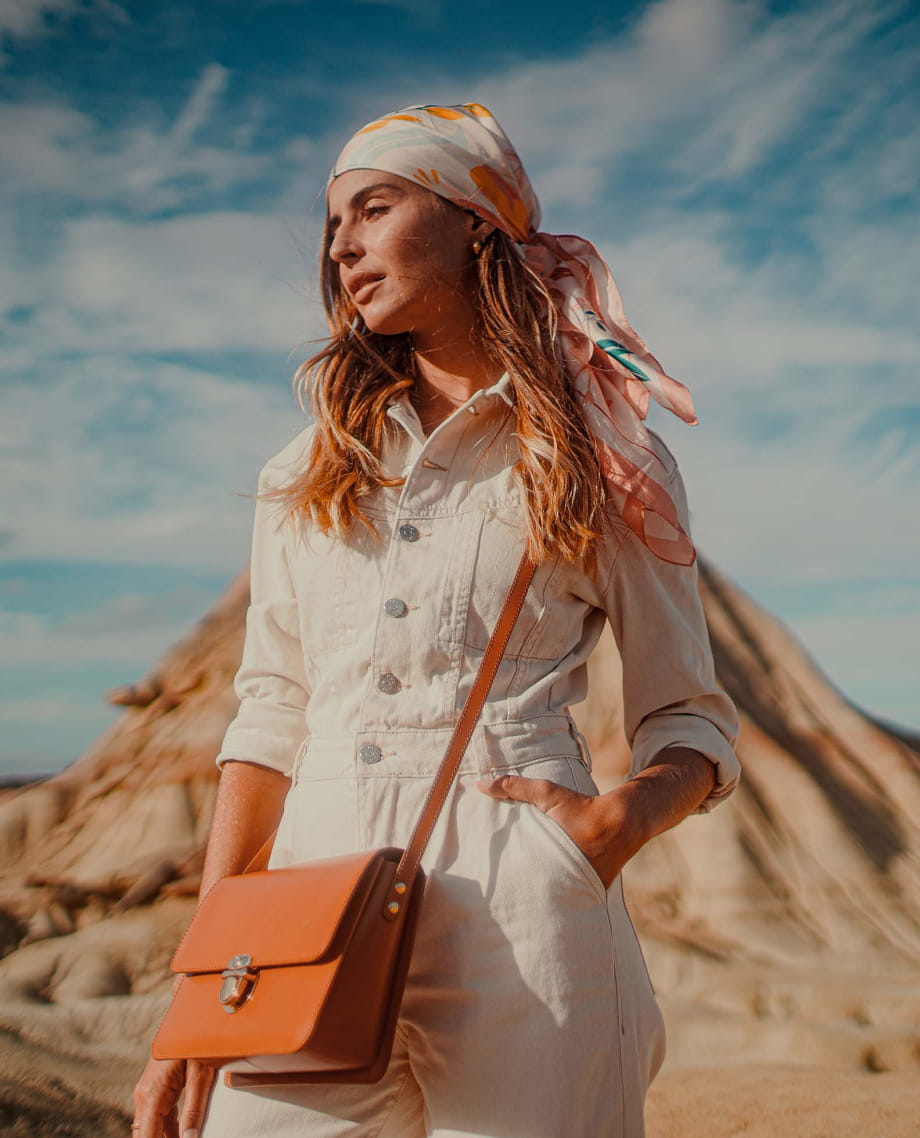 To take care of it with softness
The 100% silk scarf
Maintenance of the silk scarf
How to take care of your large silk scarf, it is quite simple with its delicate material, we advise you to wash it by hand or put it in the machine and follow the delicate program. Of course, to dry it, it is only in the open air. If ever your scarf has wrinkles, you can iron it, just put a thick cotton fabric over it to protect the fabric. Avoid washing it too much to avoid damaging it.

The little tricks
You may have already heard about it, but it is recommended to sleep with a scarf. So you must be wondering why you should sleep with a silk scarf, well the answer is quite simple, it's because silk is a very soft, delicate, but at the same time strong material, so it will be able to protect your hair, but also your skin during the night.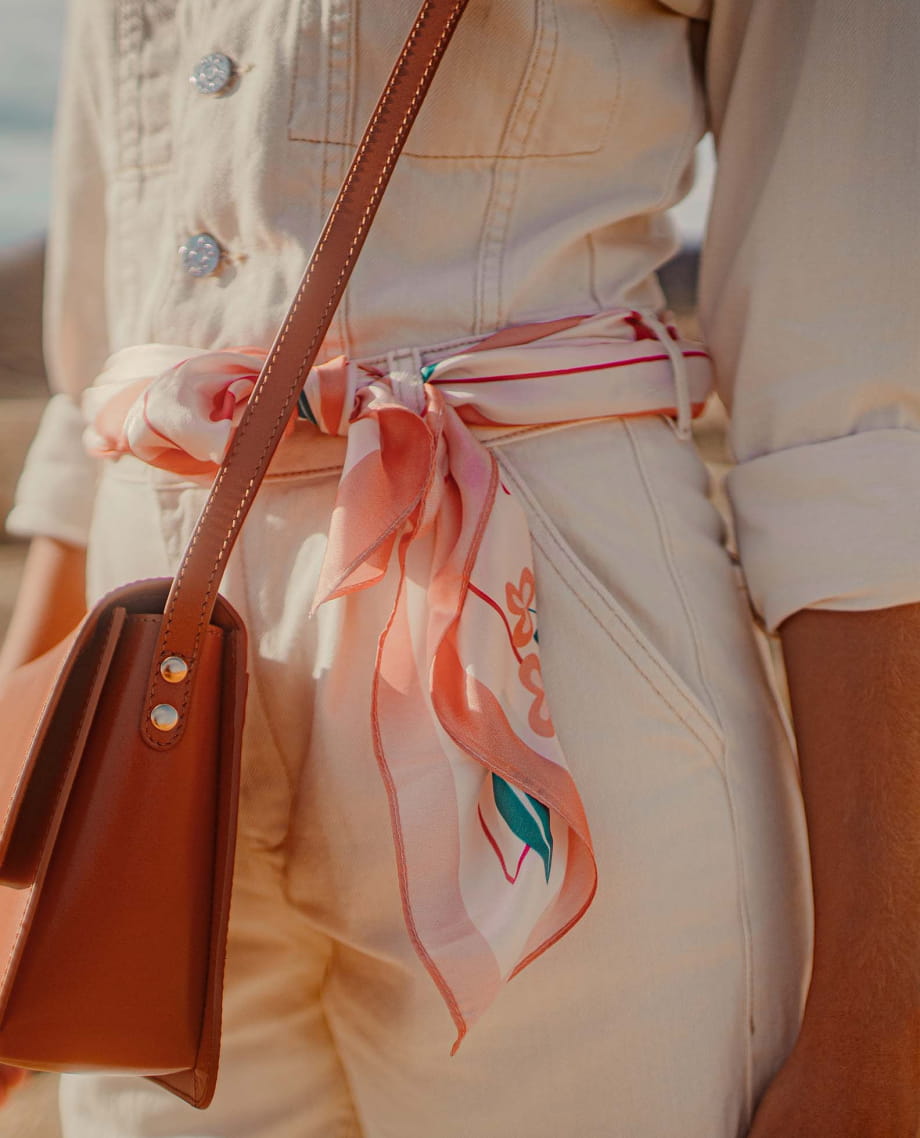 Floral universe
How to wear a silk scarf
The luxury silk scarf is a timeless fashion accessory, over the years it has evolved, changed patterns and colors, but it was always an integral part of the dressing of these ladies. Easy to wear every day, it brings a touch of color and elegance to your outfits. Perfect for your summer outings, wear it with a pretty cotton dress or with jeans and a tee-shirt. 

Stylish tip
Our silk scarf can be worn in so many different ways so you're probably wondering how to put a scarf around your neck, well there are different options, you can tie it with a little bow for a cute effect, if you prefer the bohemian style wrap it around your neck like a scarf and for the casual style, just put it behind your neck and let it fall on your shoulders without closing it.
If you want to wear the silk scarf in your hair, you can make a low or high ponytail and then tie a knot over it with the scarf to let it fall on each side of your hair. For a more elaborate hairstyle, you can make a braid with the scarf or a bun tightened by our silk square. Finally, for a more bohemian look, you can put the scarf around your head like a bandana. 
You can also wrap it around the handle of your handbag or simply tie it and let it fall on the bag. This scarf can also be worn around your waist with carrot pants for example to make a belt. Finally, as it is a large silk scarf, it can be worn on top, you just have to fold it in a triangle and tie it behind your back, a perfect trick for your summer evenings at the beach.