Beautiful flat leather sandals, delicate and feminine, they will become your best ally to attend all your garden parties this summer.
Veuillez sélectionner une taille
Characteristics
Material and care
Size guide
Delivery and return
Gold flat sandals
Smooth cowhide leather
Cowhide leather sole
Cowhide leather insole
Italian leathers
For these sandals in smooth leather, you only need a few strokes of crepe brush and waterproofing in order to prevent rain and mud staining.
This model fits normally. Take your usual size!
You are between two sizes? Take the next size up.
Returns and exchanges are free.
Metropolitan France and Corsica
Colissimo Relais: free delivery for purchases over 50€. 4€ below 50€ of purchase.
Free returns.
Overseas
Colissimo: 35€ from 50€ purchase. 25€ below 50€ of purchase.
Returns at the customer's expense.

Different terms and conditions apply for international deliveries: for more information, see our page dedicated to Shipping and Returns!
You have 30 days to make a return after receiving your package. Refunds are made upon receipt of the product.
Shine in gold
The chic Palma sandals in gold
It's finally summer, the perfect season to travel, dream, and stroll. You'll be able to take long walks at sunrise or sunset, choose your summer mood. But wait, if you want to walk in style, you absolutely need our Palma sandals in gold. Let us tell you why they are perfect for you. First of all, they are beautiful, elegant and unique in their kind, moreover, they are super comfortable, and thanks to their straps they keep your foot well, moreover thanks to its color and its style you will be able to keep them for many years, because it is a timeless model, but also because they are of good quality, in order to offer you a durable shoe.
This pair of flat sandals can also be a great ally, indeed it will bring to your daily outfits the golden touch that makes the difference, easy to wear every day, you can take them to work, or wear them on weekends for your outings with friends. But wait, did you know that you can also wear them for important events like weddings, so you will be pretty, elegant but well in your shoes, since they are comfortable.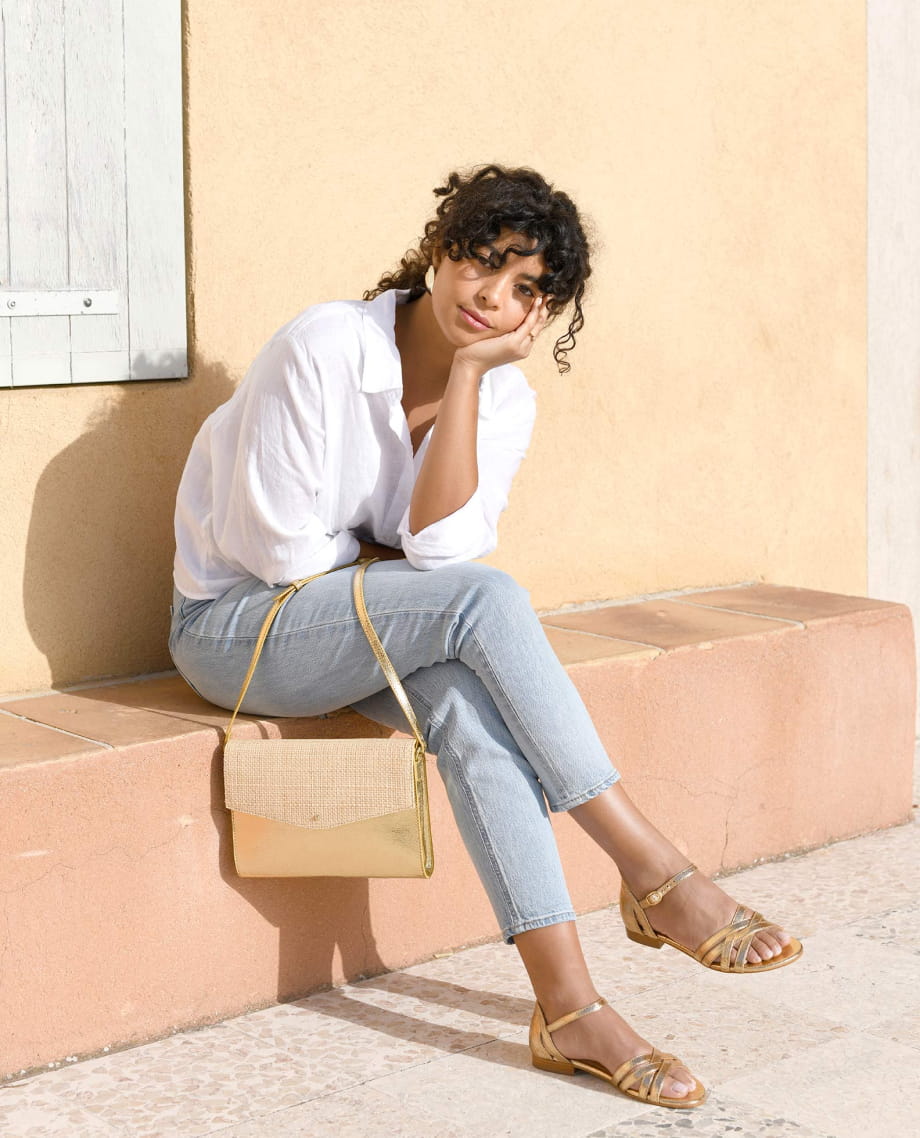 Comfortable sandals
Flat sandals made with a unique know-how
At Maradji, we love to offer you beautiful shoes and accessories, but those who know us know that we never neglect quality, which is at the heart of our brand. Indeed, we look for the know-how where it is present, that's why for our shoes we decided to produce them in Portugal in Porto, the European capital of shoes. Of course, it is our creator who imagines, designs and chooses the materials to offer you an original shoe, trendy, but which corresponds to our Maradjique style. 
The Palma pair of sandals is a flat shoe made from smooth and golden cow leather. This shoe is interesting because it is full of details, the front of the foot is supported by a crisscross of thin straps. The heel is fully covered in gold leather, with a slight opening for a chic effect. Finally, the ankle is maintained by a thin strap, which will support your foot with comfort, but also refine your silhouette.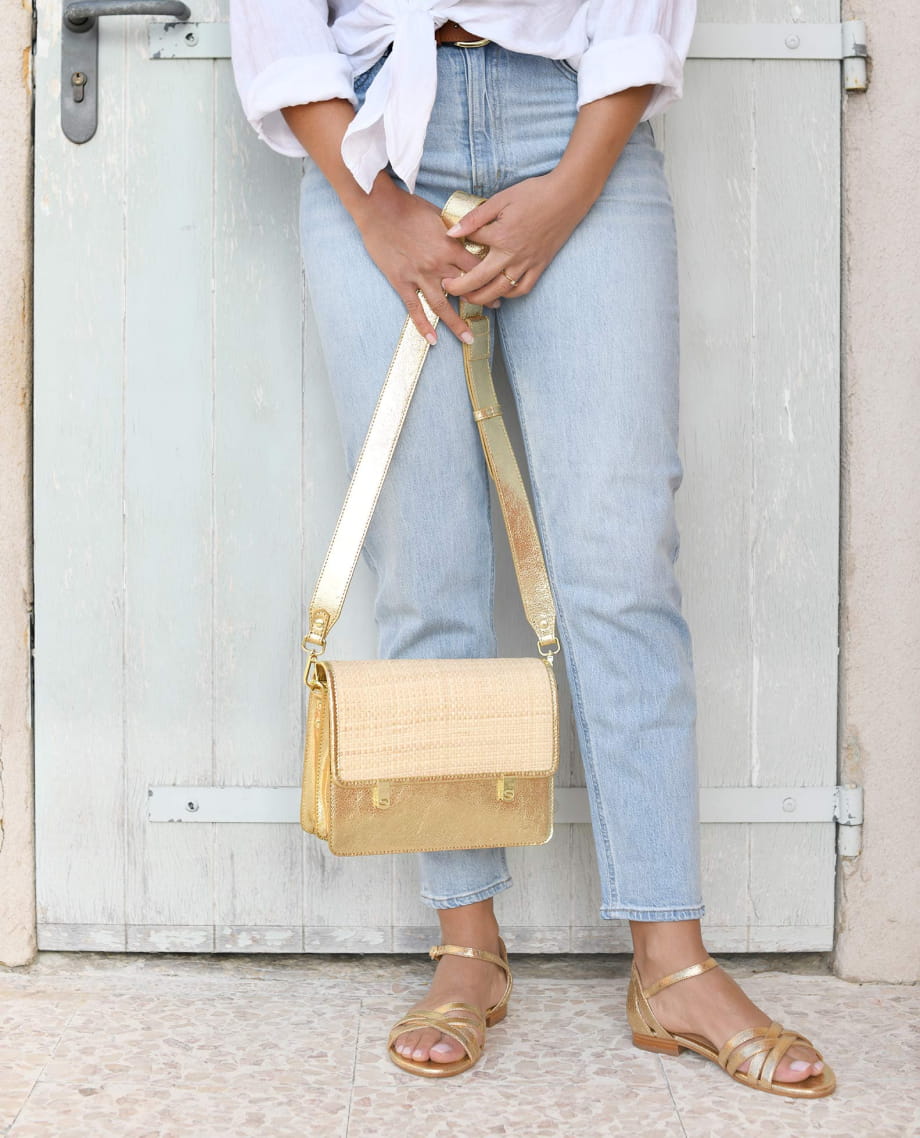 Bohemian chic
Our perfect pair of sandals for summer
At Maradji we decided to project our summer desires, so we are sure that this one will be great. We expect sunny weather with warm winds, not to mention colorful and flowery landscapes. You will be able to dream and travel with us. Discover the colorful streets on the Italian coast, or let yourself be seduced by the beautiful green landscapes in Croatia, and if like us you love the beach, the south of France is a hit.
This summer will be colorful, that's why we advise you to take out your pretty dresses, whether they are long, short, bodycon or flounced. With your plain clothes, you are sure not to go wrong, but we still suggest not to hesitate to wear exotic patterns, flowers or the inevitable weights.
For a casual look, don't forget your jeans, with a pretty blouse, a pastel or flashy blouse, the ideal is to accessorize your outfit with a pretty straw hat and why not the basket that goes with it.
With Maradji, you have no excuse not to enjoy your summer.