Get the Anita Black Foulchie and tie you hair with style.
Characteristics
Material and care
Delivery and return
Modal Foulchie
Golden Mini Gloriaprint
Dimensions 15 cm
Each scarf is hand screen printed with gold ink to illuminate your complexion! We recommend that you wash your scarf by hand in cold water with a small amount of soap.
Then air-dry it and finally iron it inside out.Made with respect in Jaipur, India in a family workshop.
Metropolitan France and Corsica
Colissimo Relais: free delivery for purchases over 50€. 4€ below 50€ of purchase.
Free returns.
Overseas
Colissimo: 35€ from 50€ purchase. 25€ below 50€ of purchase.
Returns at the customer's expense.

Different terms and conditions apply for international deliveries: for more information, see our page dedicated to Shipping and Returns!
You have 30 days to make a return after receiving your package. Refunds are made upon receipt of the product.
What is that?
Foulchie: a trendy « scarf scrunchie »
You may have seen it or have a glimpse of it on the streets and thought « what a nice scrunchie ! », without actually knowing what it was called. So what exactly is a foulchie? What makes it different from a simple scrunchie? The foulchie is, quite simply, a clever combination of a scrunchie (« chouchou », in French) and a scarf (« foulard »)! 
This irresistible hair accessory is the great heir of the scrunchie, which is back in fashion for a few years now. The only thing that distinguishes it, once again, is the scarf, passed around the elastic, which falls gorgeously along the hair. This original addition to the scrunchie, often considered childish, brings a little more elegance, for nice fresh and distinguished hairstyles.
If you're afraid of falling too far back into the 90s, the foulchie can bring vintage and trendy style!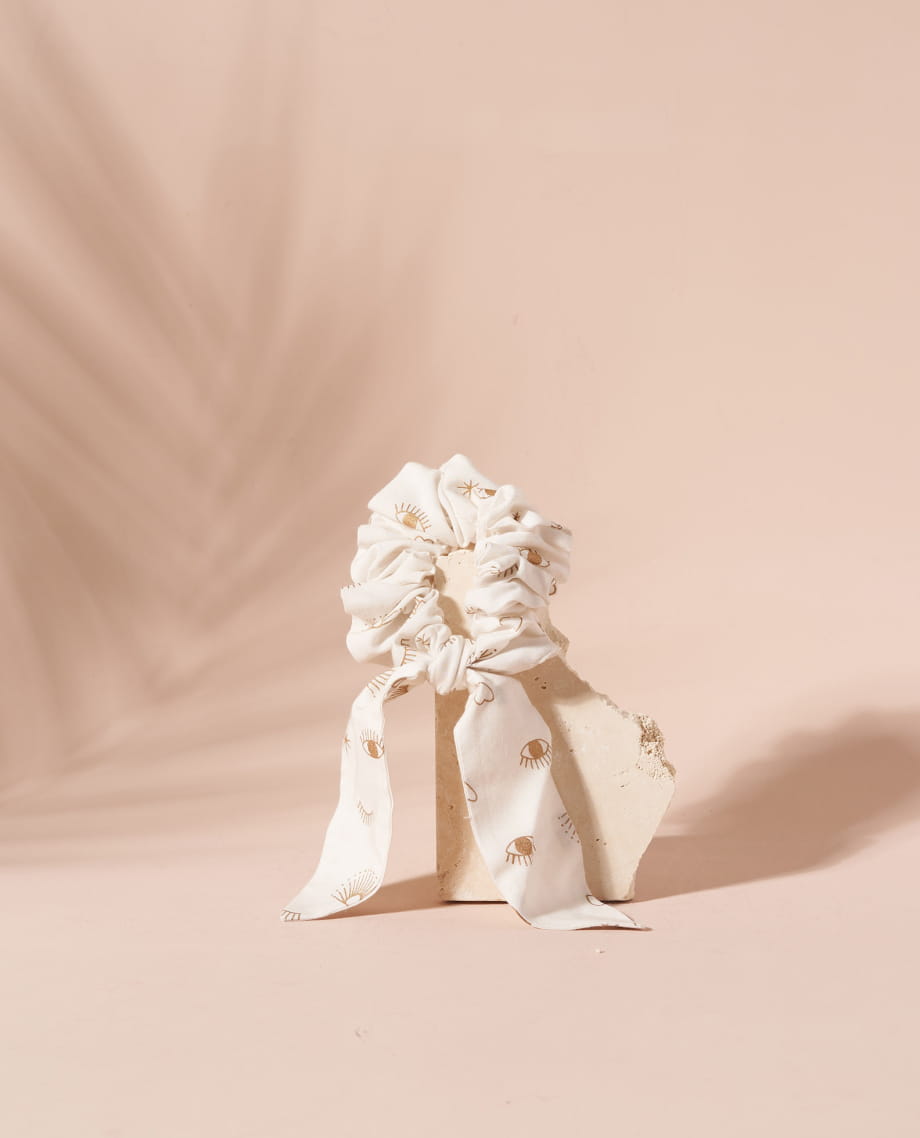 Benefits only!
Why should you buy a Foulchie?
We know that our little Anitas are not the cheapest, and you might be wondering what makes them so pricy. Well, if you adopt them, you'll be slipping into your beautiful hair a quality modal scarf (not silk, mind you) handcrafted in a workshop in India. Each version of Anita has been thought and designed to accompany you every day, whatever outfit you'll choose. Their golden ink patterns will surely bring a je-ne-sais-quoi to all styles. As for the black, white and red colors, they will perfectly accessorize an elegant or bohemian, spring or fall outfit. 
More than an accessory, the foulchie is also a new way to take care of your hair! The pressure of the elastic is held back by the thickness of the fabric, which prevents damaged or deformed hair fibers (we all let our hair down one day just to be confronted with some wavy effect that makes us quickly re-do our ponytail...). So count on Anita to preserve your hair while making you look chic!
Our precious advice
How to wear the Foulchie?
Tying your hair with such a large elastic might be intimidating as you're not sure if it will match your outfit or your personality. But if you've fallen for it, you're bound to want to make it part of your everyday life. So don't worry: we think there's no wrong way to wear the Foulchie! 
Of course, there's nothing easier than styling your hair with a scrunchie. You can try an unstructured bun or a high ponytail (well, as long as you know how to tame your hair). Just like a classic elastic, all combinations are possible: ponytail, half-tail, bun, straight and plated hair or two small strands that fall down... and why not two buns, for a totally assumed retro style? 
Whatever your choice, Anita will never clash with your outfit! We can guarantee you she'll brighten it up!